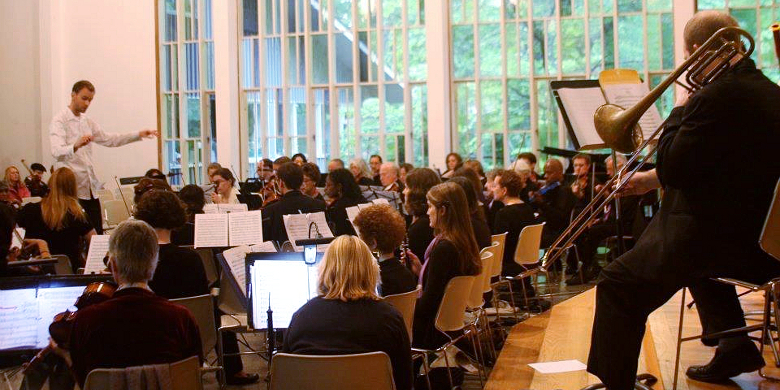 Celebrating our second decade of bringing great music to schools, nursing homes, and the Montgomery County/Washington, DC community.
Click Here for our Membership FAQ
The NIH Community Orchestra The NIH Community Orchestra is an all-volunteer organization founded by Gary Daum in the fall of 1996 for the purpose of bringing together the musical talent of NIH and the surrounding community. There are no auditions for membership; all musicians are welcome. The directors work closely with members in a warm and nurturing environment. Since then, its concert repertoire has spanned the music of six centuries and is becoming known among the arts community of Montgomery County. The group has been a regular contributor to the summer outdoor concert series in Gaithersburg and small chamber groups perform at local libraries, nursing homes, schools and other concert venues. These groups include brass quintets, celtic ensemble, Dixieland band, wind quintets and a jazz improvisation group. In the spring of 2003, our smaller ensemble, the NIH Chamber Orchestra conducted by Jesse Parker, made its debut concerts at Saint Mark Presbyterian and at Strathmore Hall mansion with a program of the music of Mozart and Beethoven. We also had two interim directors, David Fanning from 2006 to 2007 and Takuya Nishiwaki "Tak" during 2009 and The current directors are Daniel Walshaw, who has a masters of Music from the University of Maryland, and Bob Johnson who directs the NIHCO Chorus. The chorus that traditionally performed only a Messiah Sing-along, largely expanded its role when Bob took over as choral director. When he came, he brought with him the entire "East Avenue Ensemble" chorus which combined with the existing NIHCO chorus to form the current group which now performs at most of the NIHCO concerts performing some major works such as Schubert's Mass in G. Many of the orchestra's rehearsals are open reading sessions where the group spends an evening playing through standard orchestral repertoire in a relaxed environment. The venues for performances are diverse as the groups ranging from holiday performances on the concourse at BWI to sophisticated affairs at the British Embassy.
For their outreach activities, the NIHCO has been nominated a number of times for the Acacia Federal Bank's "Nice Guys Awards". Perhaps one of the more remarkable facts about the group is that the NIHCO is an all-volunteer organization. This group of talented musicians comes together to make music for the sheer joy of music. Proceeds from the NIHCO concerts benefit charities of NIH, including the Patient Emergency Fund, The Children's Inn, and Camp Funshine.