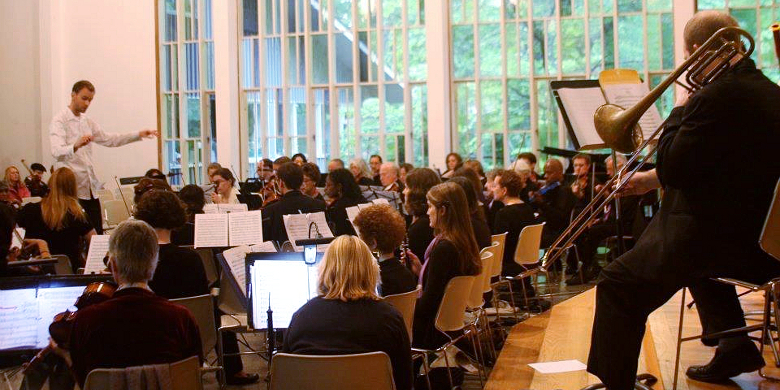 Celebrating our second decade of bringing great music to schools, nursing homes, and the Montgomery County/Washington, DC community.
Click Here for our Membership FAQ
The NIH Community Orchestra The NIH Community Orchestra (NIHCO) is an all-volunteer organization founded by Gary Daum in the fall of 1996 for the purpose of bringing together the musical talent of NIH and the surrounding community. There are no auditions for membership; all musicians are welcome. The directors work closely with members in a warm and nurturing environment. NICHO has been a regular contributor to the summer outdoor concert series in Gaithersburg. Its chamber groups perform at local libraries, nursing homes, schools and other concert venues. These groups have included brass quintets, celtic ensemble, Dixieland band, wind quintets, string quartets, and a jazz improvisation group. NIHCO's current music directors include:
Richard Scerbo, founder of the Inscape Chamber Orchesra, Associate Artistic Director and General Manager of the National Orchestral Institute and Assistant Director for Artistic Planning and Operations at the University of Maryland School of Music


Joseph Gascho, an award-winning harpsichordist who conducts opera, orchestra and choir and teaches at George Washington University, American University and Oberlin Conservatory Baroque Performance Institute


Bob Johnson, who has been directing the NIHCO Chorus sine 2009.


For its outreach activities, the NIHCO has been nominated a number of times for the Acacia Federal Bank's "Nice Guys Awards." Perhaps one of the more remarkable facts about the group is that NIHCO is an all-volunteer organization. Its talented musicians come together for the sheer joy of making music. Proceeds from the NIHCO concerts benefit charities of NIH, including the Patient Emergency Fund, The Children's Inn, and Camp Funshine.